#HumansofMEA - Marc Singerling, ICC Sydney
#HumansofMEA asked Marc Singerling, Food and Beverage Services Manager at the International Convention Centre, Sydney and an Acting Asset & Trades Manager what he likes most about our industry, why Africa is his favourite holiday destination, and a skill no-one knows he has.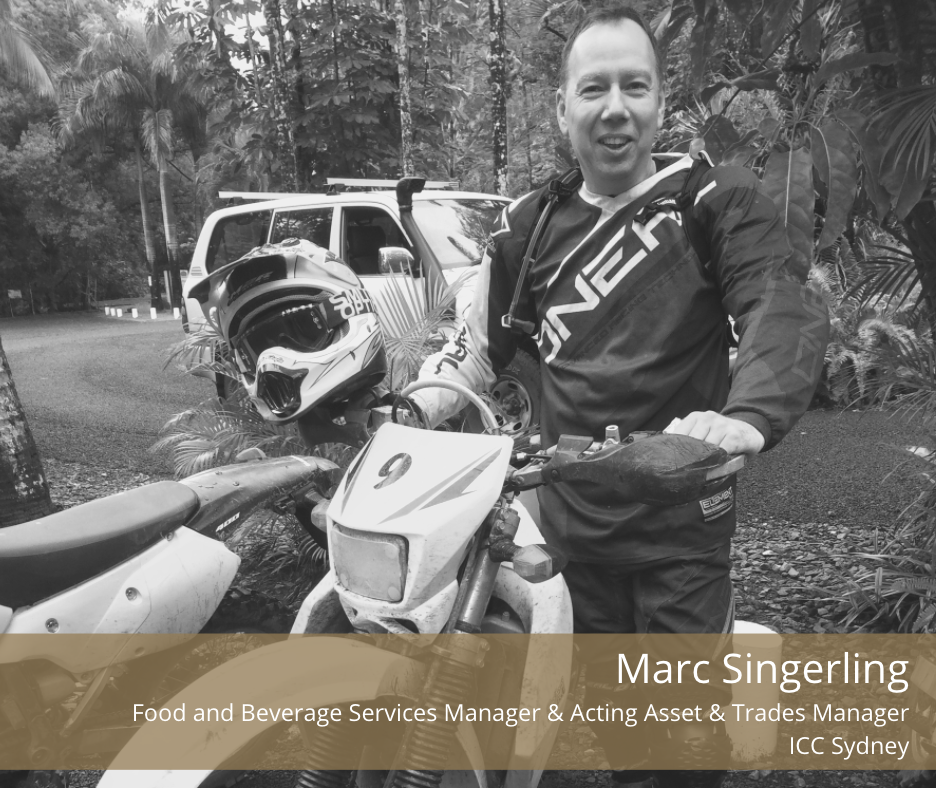 ---
1. What strengths do you bring to the events industry Marc?
"Problem solver, can do attitude and instilling team spirit."
2. It is 5 pm on a Friday – what is in your glass?
"Probably still coffee but looking forward to a beer."
3. If Marc had a super power what would it be?
"Time travel! Would love to go back and give my younger self a good kick up the behind."
[#HumansofMEA note: We hear that Marc.]
4. If you could work anywhere in the world, where would it be and why?
"I've travelled to lots of places in the world and chose to be here."
5. How do you like your eggs?
"Either fried: sunny side up or poached. Runny egg though."
6. Marc, can you name one thing that makes a great meeting stand out and why?
"The positive energy from the participants. There is not greater feeling that knowing you have contributed to someone's learning and positive experience."
7. What is a skill no one would know you had?
"When I was still a baby I was privileged to have served in the second oldest Marine Corps in the world and also completed the same French Commando course as Todd Sampson recently…."
8. Where is Marc's favourite holiday destination and what activity did you spend most of the time doing?
"Africa (Namibia – Zambia – Cape Town) – driving around and soaking up the sights and wildlife. Amazing!"
9. What is the current TV series you are watching?
"The Haunting of Hill House – not my usual cup of tea but surprisingly good."
10. Where would we find Marc on the weekend?
"Either at home or a sneaky ride on the motor bike."
Thank you Marc for talking with #HumansofMEA – we look forward to seeing you at the next MEA Event for a glass...or should we say...cup of coffee.