#HumansofMEA - Tim Birley, Pan Pacific Hotels Group
#HumansofMEA asked Tim Birley, National Business Development Manager with Pan Pacific Hotels Group as series of questions ranging from what he likes most about our industry to how he takes his eggs.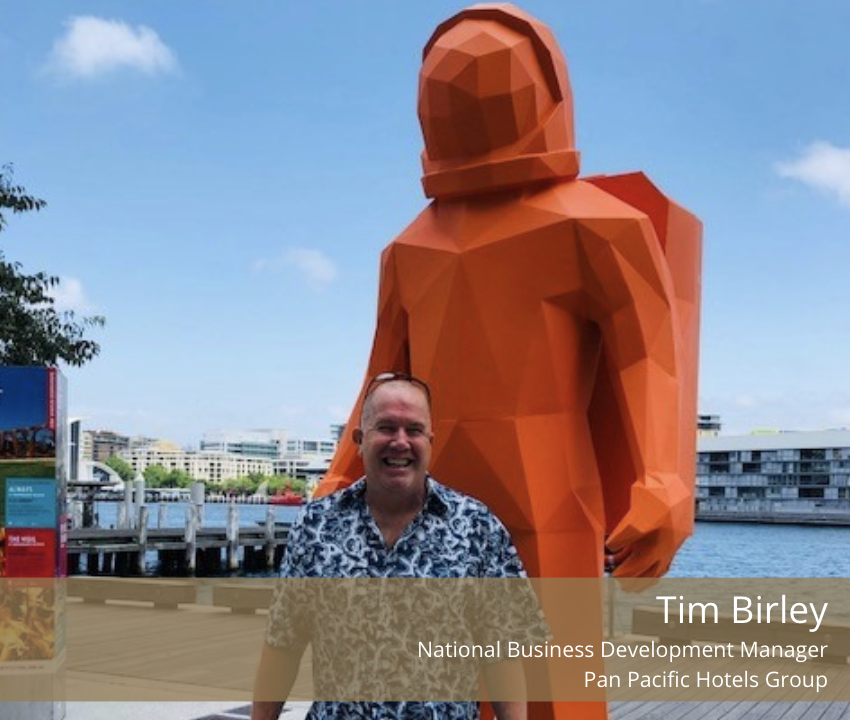 ---
1. Tim, what strengths do you bring to the events industry?
"The strengths I bring to the industry are my people skills as at the heart of all dealings are people and the ability to be able to relate to them effectively is fundamental."
2.  It is 5 pm Tim on a Friday – what is in your glass?
"Vodka…it isn't just a breakfast drink...stop judging me…"
3. If you had a super power what would it be?
"To be able to be in many places at the same time."
4. Tim, if you could work anywhere in the world, where would it be and why?
"As long as I enjoy my job I don't mind where I work in the world. At the moment I am loving Darling Harbour in Sydney."
5. How do you like your eggs Tim?
"I like my eggs poached…..with bacon….. cooked by someone else and served by the pool in a tropical resort oh and with a side of Bloody Mary's."
6. Name one thing that makes a great meeting stand out and why?
"When all the various elements come together in harmony it creates a sense of enthusiasm and excitement…(also, excellent canapés help...)." 
7. What is a skill no one would know you had?
"Horse strapper, poodle whisperer, English luggage teacher and a first time pickler…I guess that is four skills…"
8. Where is your favourite holiday destination and what activity did you spend most of the time doing?
"Currently obsessed with Asia due to the proximity, the variety of food available and the cultural diversity – being fortunate enough to stay in some luxe resorts is a bonus…loving a swim-up bar…"
9. What is the current TV series you are watching Tim?
"The Crown, however I have just watched The Bone Collector and the Mandalorian – all very good series."
10. Tim, where would we find you on the weekend?
"With family and friends – usually a restaurant involved, coastal walks with the dogs, scanning the web for online art auctions and catching up on the week that past." 
Thank you Tim for talking with of #HumansofMEA – we look forward to seeing you at the next MEA event for a vodka or two.