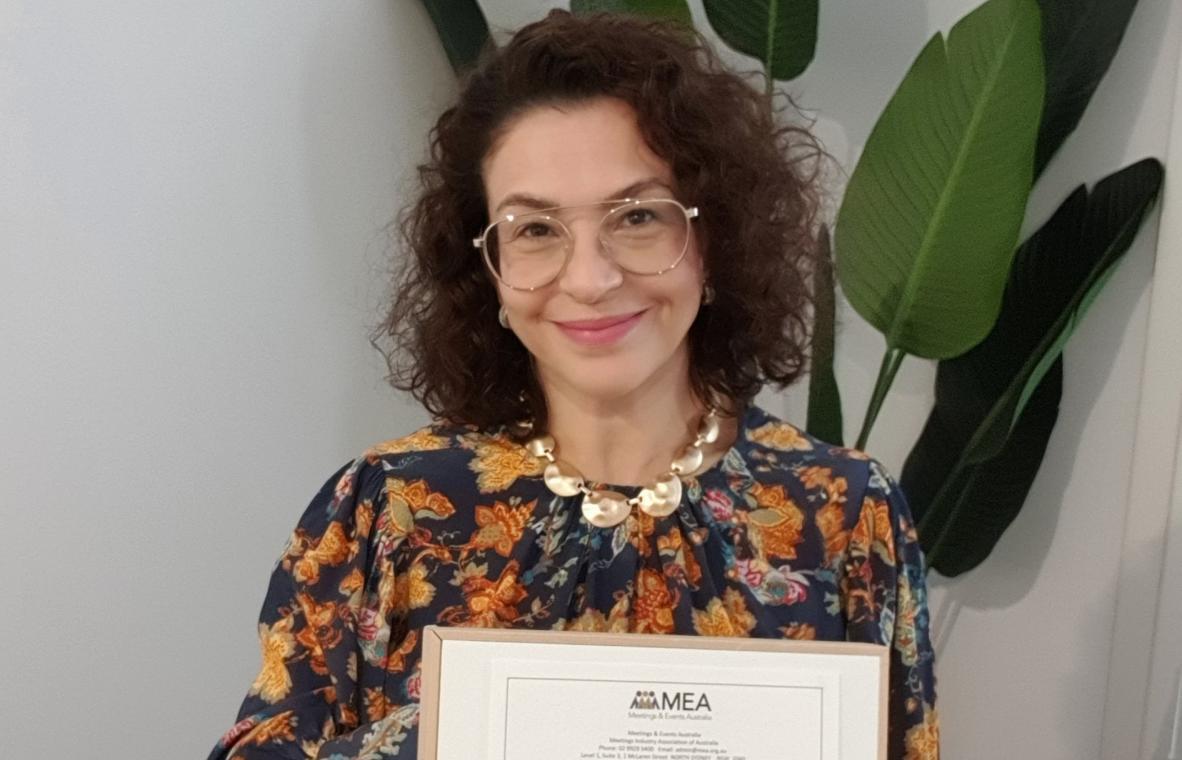 Meet Jo Halios-Lewis, MEA's newest Diploma Graduate!
MEA enjoys partnering with Destination NSW to deliver the MEA Diploma of Event Management (SIT50316) as part of a regional scholarship program designed to upskill event professionals across NSW.    
Jo Halios-Lewis is a freelance Events Consultant with a background in corporate and higher education events, and she is MEA's newest Diploma of Event Management (SIT50316) graduate.
Based in Wollongong NSW, Jo has over twenty years of experience working within the industry and was looking for a course to develop her skills further.  Jo began the Diploma course when she was Events Officer at a local Higher Education Institute
MEA caught up with Jo to ask her what she found valuable about the program, what's she's most looking forward to now that she's done, and any advice she has for those interested in starting their Diploma journey.
---
Q: What did you learn during SIT50316 Diploma of Event Management course?
Jo: "This diverse course provided me with theoretical, best practice and new trend approaches around event management. I now have a much clearer understanding of how event strategy fits within an organisation's overall business strategy to deliver a return on investment for the client.  In terms of event delivery, I have learned how best to manage event projects and deliver memorable, positive and unique client experiences."
Q: What was your favourite topic?
Jo: "The subject Develop Event Concepts required us to create an event concept for a major international event. The subject was dynamic and fun, featuring guest industry mentors who encouraged us to get creative by broadening our scope of thinking and embrace future technologies into our concepts."
Q: How will you use what you have learned in your current role?
Jo: "As a result of the course I have additional tools and resources to improve the efficiency and quality of my outputs. By introducing best practice approaches into my own work, I can be more strategic and creative in my planning, build better relationships with those around me and deliver events that are on budget and achieve their targets.
Q: What are you most looking forward to now that you have the SIT50316 Diploma of Event Management qualification under your belt?
Jo: "As I venture back into industry post Covid as a freelance event consultant, the course has been integral to my personal and professional development. The Diploma has provided me with a refreshed understanding of the industry what I as an event professional can effectively offer my clients. I now have the confidence to lead projects and provide positive experiences and outcomes for all."
Q: If you could give one piece of advice to those thinking about doing the course, what would you say?
Jo: "I would certainly recommend the course to anyone interested in undertaking professional development within the events industry. The course is led by industry best practice experts who make each subject engaging and relevant. Study is flexible, allowing students to learn in their own time, whilst maintaining a schedule so you meet your targets. Weekly Zoom classes and regular workshops provide a fun and structured environment to engage with your lecturer and class. You'll expand your network and you'll become a student member of MEA which provides additional opportunities for networking and further development."
Jo also added. "I have to thank MEA, my lecturers and my fellow students for making the course such a positive and rewarding experience. Course content was relevant, engaging and opportunities to meet industry experts was a highlight. The class environment has always been supportive, especially during COVID, when many of us experienced uncertainty as a result of lockdowns. I was very fortunate to receive a scholarship to study the Diploma from Destination NSW and so would like to thank them for giving regional event organisers like myself an opportunity to improve our skills. I've loved the opportunity to meet other students from across Australia and wish them the very best as they progress through the course."