MEA's SIT50316 Diploma of Event Management course has been developed by industry experts to educate and upskill those wishing to gain foundational knowledge and practical experience in the Australia events industry. 
Access the advice and insight of experts through a practical learning experience. The course is available online, providing flexibility in learning for students across Australia seeking to further their career in Event Management. 
---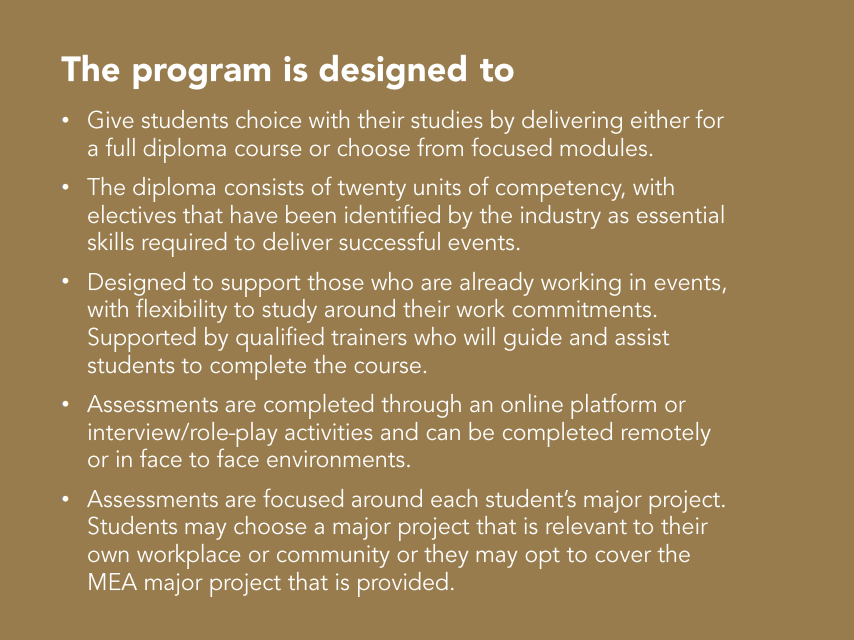 ---
DIPLOMA 
On successful completion of twenty course units, students will be issued with the qualification SIT50316 Diploma of Event Management. 
CERTIFICATES OF ATTAINMENT 
Students who complete modules will receive a certificate of attainment for each completed unit included in the module. 
---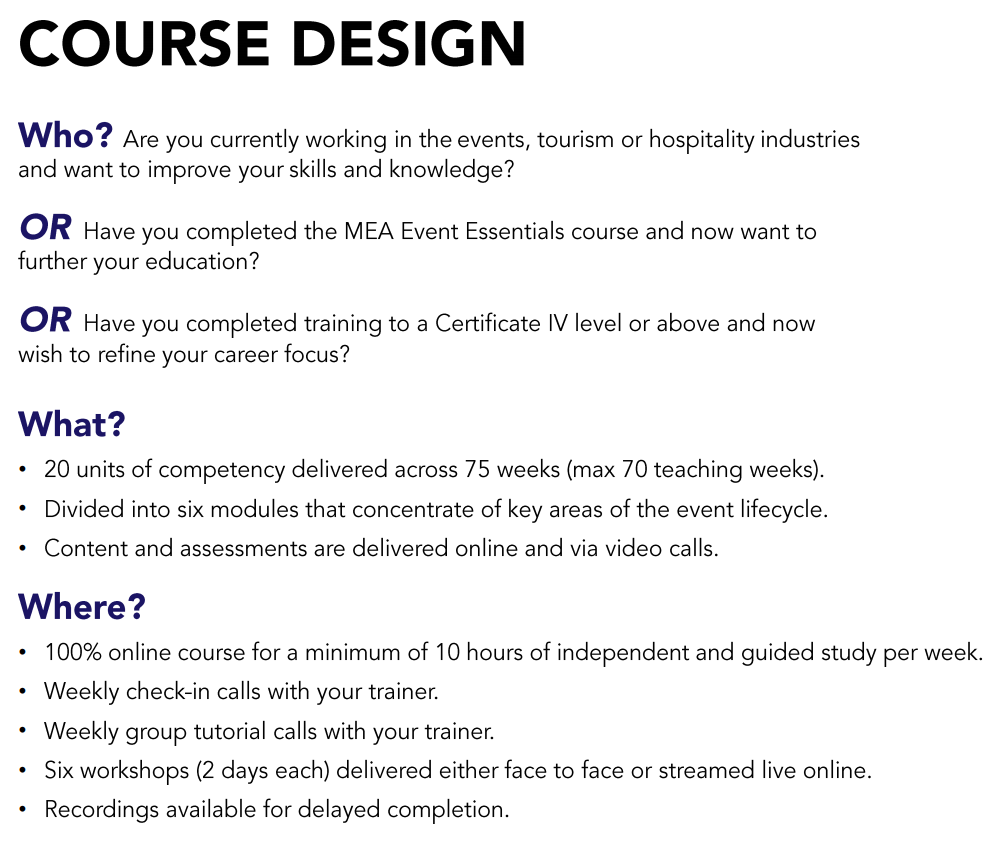 Six (6) workshops, of two (2) days length each. 
Conducted over a 75-week period 
The workshops can be attended in person or accessed online. 
---
BENEFITS 
MEA Membership 
Students who entrol in the full SIT50316 Diploma of Event Management course receive a complimentary annual student membership subscription for two years to Meetings & Events Australia (MEA) if they or their organisation are not already members. 
This membership entitles students to attend MEA Professional Development events in their State or Territory at the member rate. Membership with MEA also allows Diploma students to attend all networking events and the Evolve conference at the discounted member rate. 
Please note that students who opt to purchase the individual modules will not be entitled to an annual membership. 
Diploma Students Opportunity at Evolve 
Students who consistently meet all milestones during their course, with ongoing committment to attend regular tutorials (Bootcamps) and submit work of the highest standard will be offered a complimentary ticket to attend Evolve the year that they graduate. 
Students who accept the complimentary ticket are expected to commit to one hour per day at Evolve participating in MEA directed discussions regarding education programs with the greater industry and also make themselves available for interviews for media releases and associated marketing activities. 
The complimentary Evolve tickets are offered at the discretion of the MEA CEO and do not include accommodation nor travel expenses. Please note: the number of complimentary tickets available per year is capped at three (3) tickets. Course fees may be claimed as tax deduction as long as the course is connected to your work.*
If you are a company and would like to pay for the course fees upfront, please email education@mea.org.au. 
*Please seek individual tax advice for your personal situation. 
---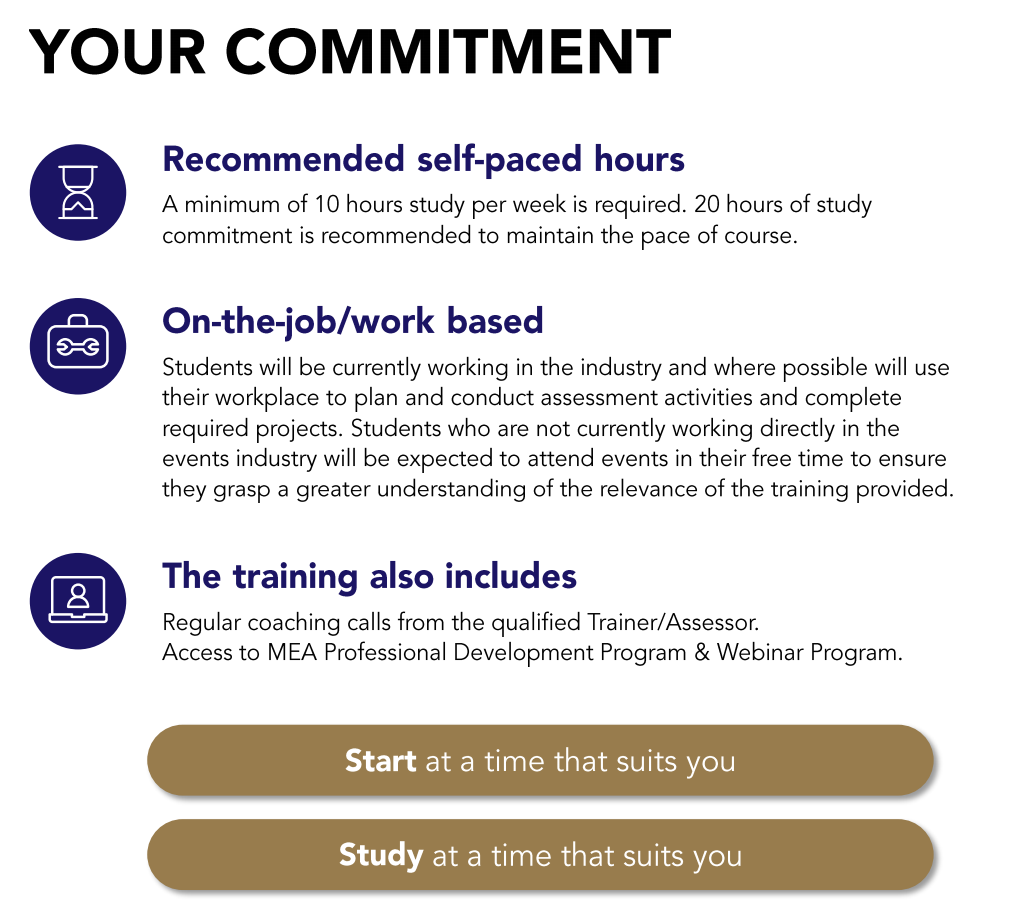 ---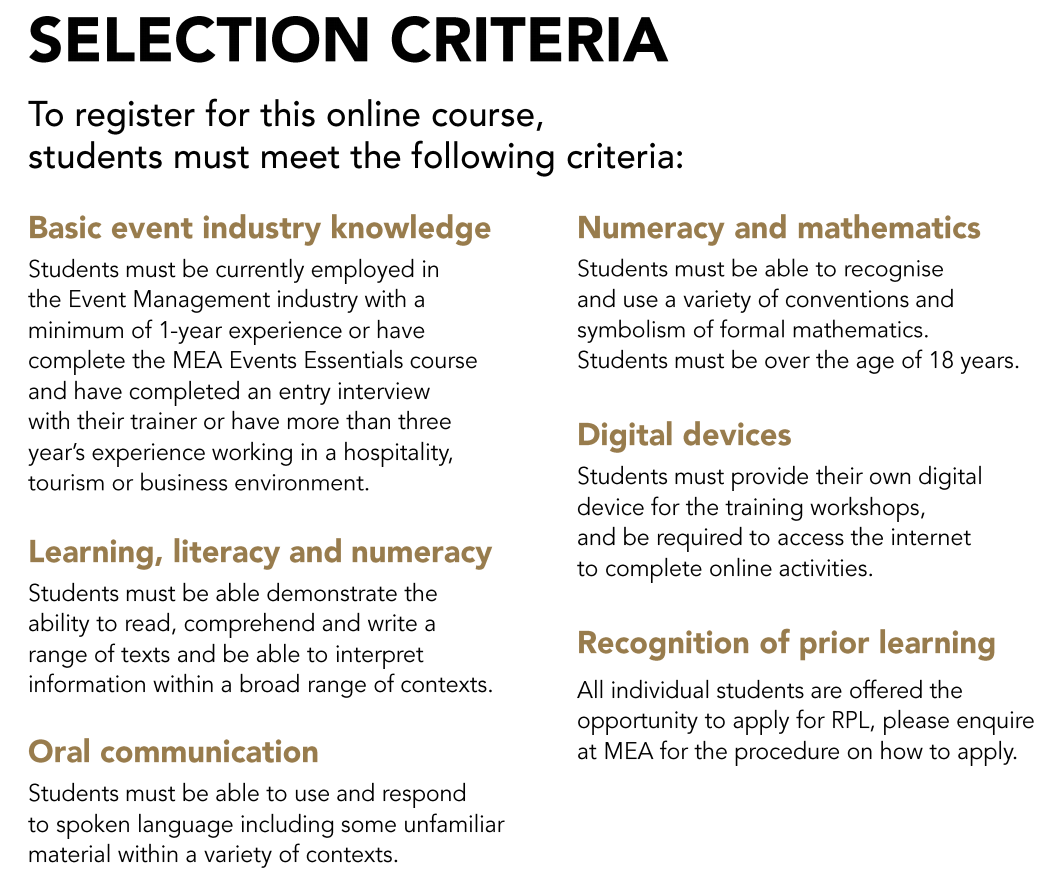 ---
COURSE FEES
Full Diploma 
The SIT50316 Diploma of Event Management includes all six Event Management Workshops. 
MEA Member: $7,000
Non-MEA Member: $7,500
---
PAYMENT PLAN
Full Diploma
Deposit to be paid prior to the course commencement: $1,500. 
Payment Options
Option A: $7,000 or $7,500 full payment* (this amount includes the deposit). 
Option B: $700 or $750 per month for 10 months** (total course valued at $8,500 including initial deposit). 
*Full payment can only be made if payment is being made by a company/organisation. 
**Students will be invoiced monthly and all course fees must be paid on time to ensure continued access to the online learning tool. 
Administrative Fees
A non-refundable administrative fee of $150 is payable for both courses with the deposit. This is to cover the administrative costs to set up the student account and is included in the deposit. 
Requests for re-issue of certificates of attainment will incur a fee of $80. 
Requests for re-assessment of unit of compentency will incur a fee of $300. 
---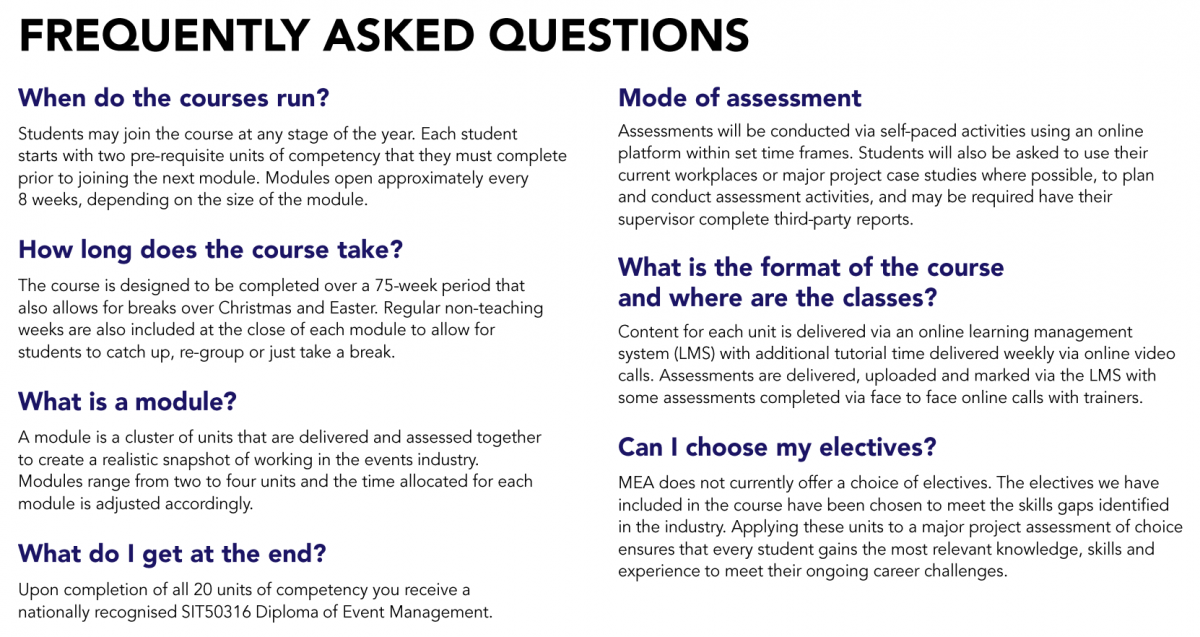 ---
Meetings & Events Australia is a registered training organisation (RTO). To find out what this means to you, click here.
RTO ID: 91329