Supporting the Future Leaders of our industry
 Proudly supported by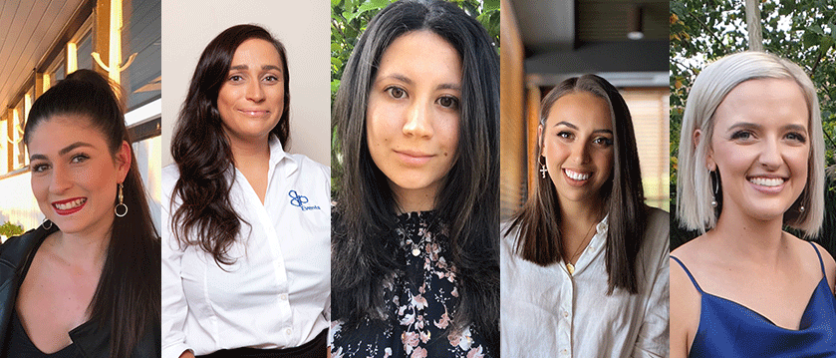 MEA AND UNGERBOECK CONGRATULATE THIS YEAR'S 2021 UNGERBOECK YOUNG PROFESSIONAL SCHOLARSHIP WINNERS 
Five young professionals from around the country have been named recipients of Meetings & Events Australia's (MEA) 2021 Ungerboeck Young Professional Scholarship.
The winners are Olivia Hannan from Air Force Events in the Australian Capital Territory, Emily Smigowski from AA&P Events in the Northern Territory; Keisha Pickin from Merlin Events in New South Wales, Erin Glackin from Sofitel Noosa Pacific Resort in Queensland and Luci Awad from Saxton Speakers Bureau in Victoria.
MEA looks forward to welcoming this year's winners of the Scholarship at Evolve 2021, whether this be in-person in Melbourne or at a Satellite Hub, or virtually. 
---
ABOUT THE SCHOLARSHIP
Meetings & Events Australia (MEA) are committed to supporting and nurturing the development of future leaders in the events industry and fostering the growth of young professional. Ungerboeck, champions of future leaders across our industry, has partnered with MEA to develop a national scholarship and has been supporting the program since its inception in 2005. 
"We are proud to be a long-term partner of MEA on this valuable program, empowering young event professionals. Over the past 17 years, we have seen many Scholarship winners achieve great milestones in their careers and make a significant impact on our industry." Fred Lazzerini, Managing Director at Ungerboeck comments. 
The Ungerboeck Young Professional Scholarship is for young professionals working in the events industry in all states and territories of Australia.
The Scholarship provides an opportunity for the successful applicants to attend Evolve 2021, the annual national events industry conference attended by up to 500 event professionals.
Their attendance enables each scholarship recipient to develop their skills, learn about industry trends and best practice, and connect with industry leaders, event professionals and suppliers.
Successful recipients of the Scholarship will receive:
One full registration to Evolve 2021 and the National Awards.*
Exclusive access to two Alumni Webinar Events.
Recognition in MEA Matters (MEA's quarterly publication) and across MEA's social media channels.
Evolve 2021 will be held in Melbourne on Wednesday 8 September 2021 at the Sofitel Melbourne on Collins. Winners of the 2021 Scholarship have the option to attend one of the locations below:  
Option 1 - Melbourne Live Event
Option 2 - Sydney Satellite Hub
Option 3 - Brisbane Satellite Hub
Option 4 - Virtual Event 
Further information about Evolve 2021 is available here: www.evolve2021.com.au. 
*Please note: Should you wish to travel to attend any of the available locations for Evolve 2021, this would be at your own cost. Flights, accommodation and incidental travel are not included in this scholarship.
---
IMPORTANT DATES 
Tuesday 18 May 2021: Applications open for Ungerboeck Young Professional Scholarship
Friday 4 June 2021: Applications close for Ungerboeck Young Professional Scholarship
June 7 - 11: Interview process. 
Mid June: All applicants are advised whether they have been successful or not. 
Wednesday 8 September: Evolve 2021 Conference.
---
ELIGIBILITY
To be eligible, the applicant must:
Be 30 years of age or under at date of close of applications Friday 4 June 2021 (applicant will need to provide copy of their passport or their drivers licence to verify date of birth).
Have less than three (3) years full-time experience in the meetings and events industry.
Hold a position in a company that would not necessarily entitle them to attend Evolve 2021.
Have demonstrated commitment to their job and have a keen interest in the events industry.
Be employed by a MEA member.
Be available for an interview in June 2021.
Applicants must include:
A letter of support from your employer.
Two professional (if possible) headshot photos (high-res jpeg).
---
APPLICATIONS
Applications for the 2021 Ungerboeck Young Professional Scholarship have closed, and the winners have been announced. If you are interested in expressing interest for next year's Scholarship - please reach out to the MEA Team.